Back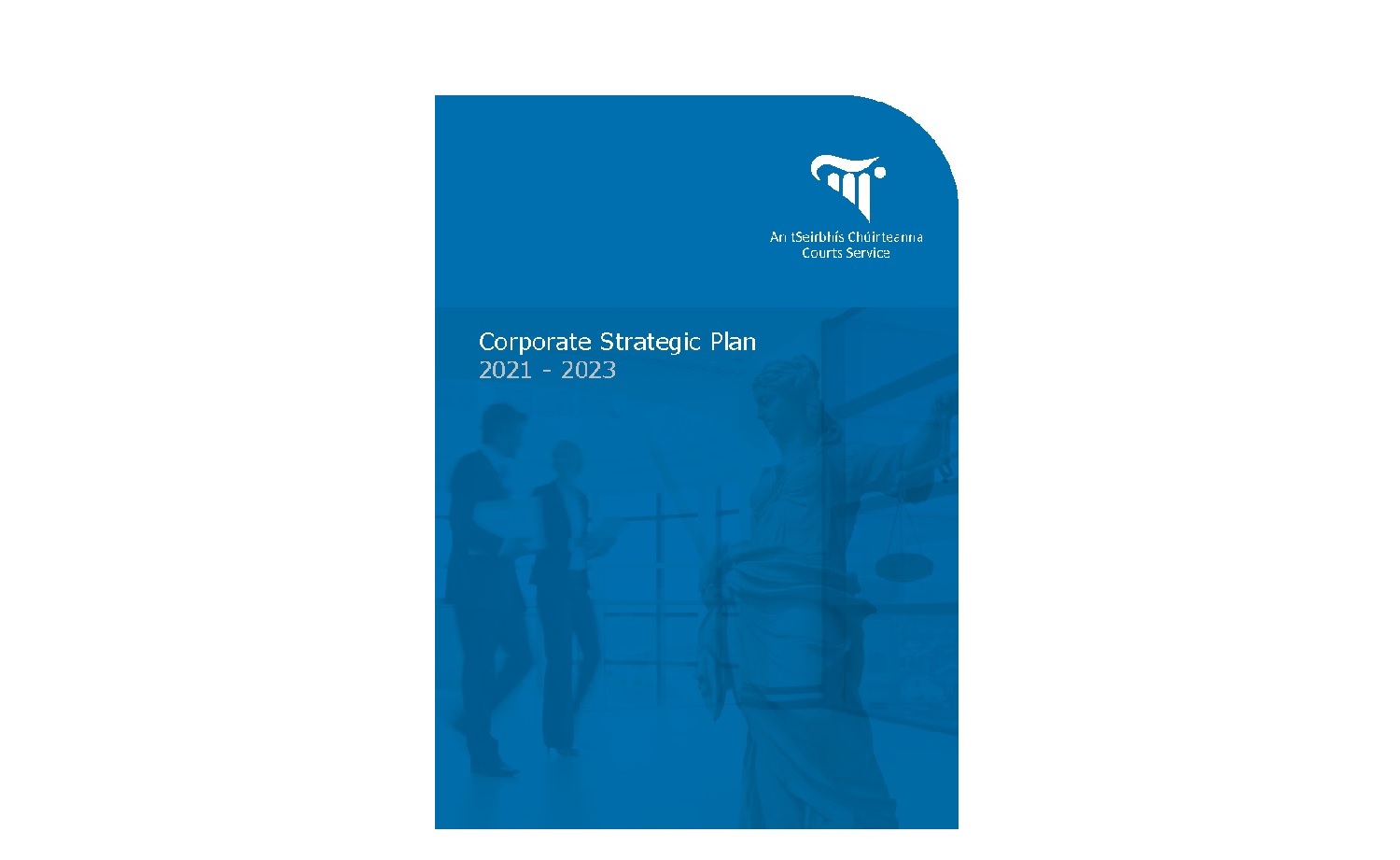 Courts Service Strategic Plan 2021 – 2023 published
15th February 2021
Three-year strategic plan for the Courts Service heralds first tranche of a decade of modernisation
"The world and nation are amidst a sea change, within which our role is to ensure that the justice sector makes it a time of renaissance not resistance", Chief Justice Frank Clarke
The Courts Service Corporate Strategic Plan 2021 – 2023 was laid before the Houses of the Oireachtas today Monday, 15 February 2021.
The Strategic Plan outlines, six overarching strategic goals for the Courts Service for the next three years. It is the first major part of our ten-year Modernisation Programme which aims to bring new digital technology and modern ways of working to the administration of justice, making access to justice easier and quicker to navigate, better responding to the needs of court users.
This plan is practically focussed, and each directorate and office will adapt annual business plans based on the ambitions under each of the six strategic goals. Key performance in achieving all goals will be tracked in this manner.
Chief Justice Frank Clarke, who chairs the board of the Courts Service has said of this three-year plan, "It is almost a cliché to say that we live in a fast changing and increasingly challenging world. Even before the onset of the COVID-19 pandemic we, in the Courts Service, had identified the need to plan strategically over the next decade for the implementation of a modern fit-for-purpose and cost effective court system which will contribute towards making access to justice easier".
Courts Service CEO Angela Denning, commented that, "the current pandemic has caused the Courts Service to accelerate the adoption of new ways of operating. It has provided a significant impetus to do so, as well as very considerable learning about what is likely to work or not work in the medium term. The Courts Service is now at a critical moment where planning future approaches will come to an end and the implementation of our ambitious 10-year plan will begin".
This strategic plan covers the first phase of the ten-year Modernisation Programme which aims to transform how the Courts Service delivers services, by deploying a greater use of digital resources and commencing work in the areas of Civil Law and Family Law, with particular focus on the Family Law Bill and recommendations contained in the recently published Civil Justice Review. The work under the three areas of reform aims to improve how all court users access our court system in more efficient, user friendly, and ultimately significantly more cost effective ways.
This Strategic Plan aims to ensure that that we are appropriately equipped to begin the journey to making Ireland a best in class provider of access to justice.
The Courts Service will work closely with government to ensure the implementation of the new structure for family justice identified in the Programme for Government.
We will also play a role in assisting Ireland to maximise those opportunities for an increase in international dispute resolution within our shores which may derive from Brexit as a result of which Ireland has become the only fully common law country within the European Union.
We will also begin to implement measures to ensure that we play our role in improving sustainability and carbon reduction.
Practical use of Technology around our Courts:
Courts will necessarily have to continue to respond to changes in the society in which they operate. Twenty-five years ago, few would have predicted the extent to which our lives and society have been radically changed by the rapid advance in technology. People, both in their personal or work lives, are now used to doing much on-line. Courts are responding and planning in a secure way, but we need to greatly increase and improve online services.
Under the life-time of this plan we are working on a number of services such as making domestic violence applications remotely accessible, rather than in person at a building; jury summons management to be included in an online system for interaction with those summonsed for duty; attendance at court office by appointment, rather than by queuing; introducing 50 extra remote courts in the coming year; expanding cashless payments at court offices; and the roll out of a judgment claims system online.
All of this is on the back of the successful roll out of e-Licensing –which has transformed the manner of filing, expediting and issuing of licenses from a courtroom and court office in person, to online.
Working with Others
We have a large user group who are now familiar with digital technology, giving them to access to remote court facilitates at their fingertips. Through feedback we know what works and, working with the Judiciary, we envisage a future of 'hybrid courts', blending the old traditions of the physical courtrooms with digital courts, as appropriate. Remote courts are virtual & real, present & future.
Keeping our Courts fit-for-purpose will inevitably always be a work in progress. However, this strategic plan shows our Courts at the beginning of a vital implementation stage which demonstrates that we are committed to 'renaissance rather than resistance'.
We will adopt new collaborative ways of working, taking a court-user centred approach, to provide improved and enhanced service delivery
We also recognise the innovative ways of working embraced over the last number of months by our staff across the country. We will continue to encourage and foster that innovative spirit as part of our Innovation Strategy. The generation of ideas from office staff, right across the organisation, who interact directly with court users and members of the public, daily, is at the heart of our Modernisation Programme – and central to this three-year Corporate Strategic Plan.